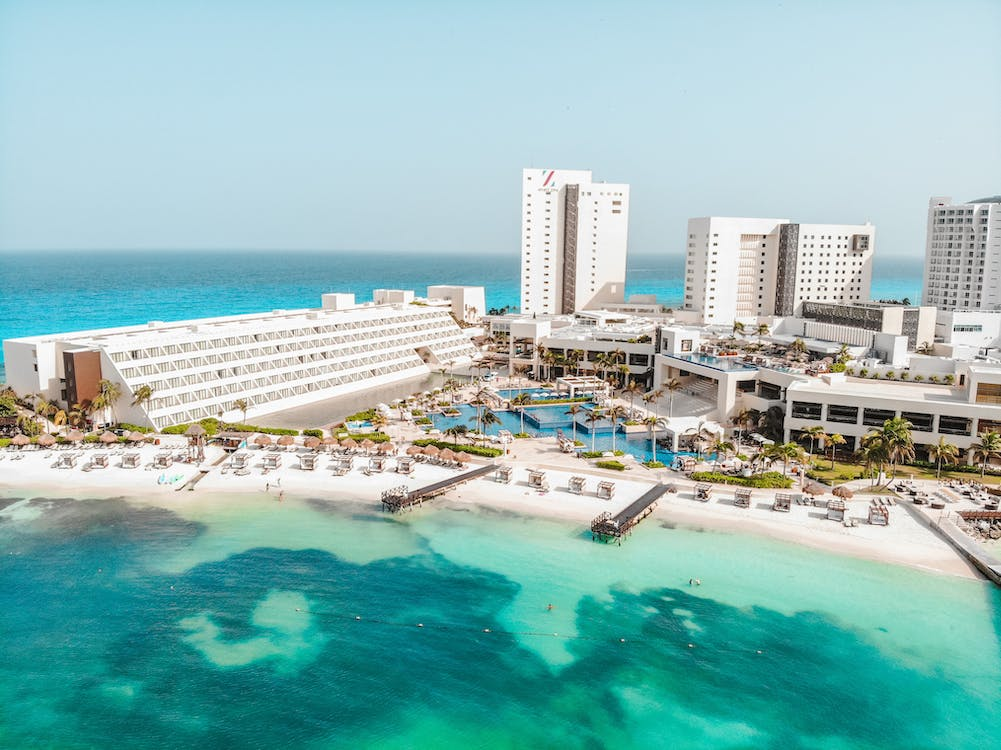 When it comes to planning a vacation, finding the perfect all-inclusive resort can make all the difference. In the sunny paradise of Cancun, Mexico, travelers are spoiled for choice with a plethora of options to suit their needs.
This ultimate guide to all-inclusive resorts in Cancun is here to help you navigate through the sea of possibilities and find the ideal accommodation for your dream getaway.
Cancun, known as a sun-soaked haven, offers a wide range of resorts that cater to different preferences and budgets. From the luxurious Iberostar Selection Cancun to the vibrant Live Aqua Beach Resort, Cancun has something for everyone. Whether you're seeking a family-friendly experience or a romantic adults-only retreat, there is a resort that will meet your desires.
In this comprehensive guide, we will explore the best locations within Cancun, the different types of resorts available, and the top-rated family-friendly and adults-only options. We will also delve into the luxury amenities and services offered, the exciting activities and entertainment available, and the diverse dining options to tantalize your taste buds.
Plus, we'll highlight other attractions in Cancun, ensuring that you make the most of your vacation in this tropical paradise.
Best Locations
The locations of all-inclusive resorts in Cancun, including the Hotel Zone, Playa Mujeres, Riviera Cancun, and Centro, offer a variety of atmospheres and amenities to cater to different types of travelers.
The Hotel Zone is the primary tourist area in Cancun, known for its beachfront resorts, vibrant nightlife, and shopping malls. It offers famous beaches and a lively atmosphere for those seeking a fun holiday with friends or a vibrant nightlife scene.
Playa Mujeres, on the other hand, provides a more tranquil and laid-back atmosphere. It is known for its stunning beaches and luxurious resorts, making it an ideal choice for those looking for a relaxing and outdoor activity-focused experience.
Riviera Cancun, located south of Cancun's Hotel Zone, offers a more exclusive and upscale atmosphere, with serene surroundings and luxury amenities.
Finally, Centro, also known as Downtown Cancun, is the heart of the city, offering vibrant street markets, local shops, and a taste of local cuisine for travelers seeking an authentic Mexican experience.
Different Types of Resorts
There are several categories of resorts available in Cancun, catering to different types of travelers.
Whether you are seeking a family-friendly experience, a romantic adults-only retreat, or a fun holiday with friends, there is a resort in Cancun that will suit your needs.
Some of the top-rated all-inclusive resorts in Cancun include:
Iberostar Selection Cancun: a luxurious resort with ocean views and a golf course.
Live Aqua Beach Resort: a modern adults-only resort with indulgent amenities and ocean views.
Moon Palace Cancun, Excellence Playa Mujeres, and Hyatt Ziva Cancun are also popular choices, offering a range of amenities and activities for guests to enjoy.
Each resort offers a unique experience, ensuring that every traveler can find their perfect getaway in Cancun.
Top Family-Friendly Resorts
One category of resorts in Cancun that caters to families is the family-friendly resorts. These resorts are specifically designed to provide a fun and enjoyable experience for both parents and children. They offer a wide range of amenities and activities that are suitable for guests of all ages.
The Royal Sands Resort and Spa is one such family-friendly resort in Cancun. It features private balconies or terraces in each suite, three infinity pools, and beach access. Guests can enjoy snorkeling, beach volleyball, tennis, golf, and soccer. The resort also has a kids club, fitness center, and billiard room.
Another popular family-friendly resort is Fiesta Americana Condesa. It offers Mexican touches and various views in its modern rooms, two outdoor pools, a spa, and family-friendly shows. With a variety of dining options and entertainment activities, these resorts provide a perfect getaway for families in Cancun.
Top Adults-Only Resorts
Among the array of accommodations in Cancun, adults-only resorts provide a serene and indulgent retreat for couples and solo travelers, where they can bask in the lap of luxury and experience a world of relaxation and romance. These resorts offer a range of amenities and services tailored specifically for adults, creating an atmosphere of sophistication and tranquility.
Luxury accommodations: Adults-only resorts in Cancun offer luxurious rooms and suites with elegant decor, plush furnishings, and breathtaking views of the ocean or surrounding landscapes.
Exclusive facilities: Guests can enjoy access to private pools, beach areas, and designated lounges where they can unwind and soak up the sun in a peaceful and intimate setting.
Indulgent spa experiences: These resorts boast world-class spas that offer a wide range of treatments and therapies, including massages, facials, and body wraps, ensuring guests leave feeling rejuvenated and pampered.
These adults-only resorts provide the perfect setting for a romantic getaway or a peaceful escape from the hustle and bustle of everyday life.
Luxury Amenities and Services
Luxury amenities and services are a prominent feature of adults-only resorts in Cancun, providing guests with a lavish and indulgent experience. These resorts go above and beyond to ensure that guests feel pampered and catered to during their stay.
From the moment guests arrive, they are greeted with impeccable service and attention to detail. The rooms at these resorts are designed with luxury in mind, featuring high-end furnishings, plush bedding, and stunning views. Guests can indulge in a range of amenities such as spa facilities, infinity pools, and private cabanas.
Fine dining options are also available, with gourmet restaurants offering a variety of international cuisines. Additionally, these resorts often offer a range of activities and entertainment options, ensuring that guests have a truly unforgettable experience.
Activities and Entertainment
Activities and entertainment options in Cancun's adults-only resorts provide guests with a diverse range of experiences to enhance their stay. These resorts understand the importance of offering a variety of activities to cater to different interests and preferences.
Guests can indulge in a range of water sports such as snorkeling, jet skiing, or paddleboarding, taking advantage of the resort's beachfront location. For those seeking relaxation, there are often multiple pools, including infinity pools, where guests can unwind and enjoy the stunning views.
In the evenings, resorts offer nightly entertainment options such as live music, themed parties, and shows, ensuring there is always something to keep guests entertained. Whether guests are looking for excitement, relaxation, or cultural experiences, Cancun's adults-only resorts have a wide array of activities and entertainment options to suit every taste.
Dining Options
Cancun's adults-only resorts provide a diverse range of dining options to cater to guests' culinary preferences and offer a unique gastronomic experience. These resorts boast multiple restaurants, each offering a distinct culinary concept and ambiance. From fine dining establishments to casual eateries, guests can indulge in a variety of international cuisines, including Mexican, Italian, Asian, and Mediterranean. The resorts also prioritize the use of fresh, locally sourced ingredients to ensure the highest quality of dishes.
In addition to the main dining options, guests can enjoy themed nights, where the resorts showcase specific cuisines or culinary styles. Some resorts even offer unique dining experiences, such as private beachfront dinners or cooking classes, allowing guests to immerse themselves in the culinary world.
Overall, the dining options at Cancun's adults-only resorts aim to provide a memorable and satisfying gastronomic journey for every guest.
Other Attractions in Cancun
Other attractions in Cancun include the beautiful island of Cozumel and the historical ruins of Tulum.
Cozumel is a paradise island located off the coast of the Yucatan Peninsula. It offers modern amenities and a chance to get away from the bustling city of Cancun. Visitors can enjoy pristine beaches, clear turquoise waters, and an array of water activities such as snorkeling and diving in the world-renowned coral reefs.
Tulum, on the other hand, is a remarkable destination known for its ancient Mayan ruins. Perched on a cliff overlooking the Caribbean Sea, Tulum provides a glimpse into the rich history and culture of the region. Visitors can explore the well-preserved ruins, learn about the Mayan civilization, and soak in the energetic atmosphere of this archaeological site.
Frequently Asked Questions
What are the transportation options for getting around Cancun?
Transportation options for getting around Cancun include taxis, buses, rental cars, and private transfers. Taxis are readily available but can be expensive. Buses are affordable and convenient for traveling within the city. Rental cars provide flexibility for exploring the area, while private transfers offer convenience and comfort.
Are there any all-inclusive resorts in Cancun that cater specifically to couples on their honeymoon?
There are several all-inclusive resorts in Cancun that cater specifically to couples on their honeymoon. These resorts offer romantic amenities, couples' activities, and intimate dining options to create a memorable and special experience for newlyweds.
Can you provide recommendations for all-inclusive resorts in Cancun that offer activities for children and teenagers?
Some all-inclusive resorts in Cancun that offer activities for children and teenagers include Moon Palace Cancun, Paradisus Cancun, and Grand Fiesta Americana Coral Beach. These resorts provide amenities and programs specifically designed for younger guests.
Are there any all-inclusive resorts in Cancun that have a focus on wellness and offer spa services?
If you're seeking a wellness-focused getaway, look no further than Leblanc Spa and Resort in Cancun. With luxurious rooms, a spa offering healing techniques and Mayan-inspired rituals, and multiple pools, it's the perfect retreat for relaxation and rejuvenation.
What are some popular excursions or day trips that can be taken from Cancun?
Some popular excursions and day trips that can be taken from Cancun include visiting Cozumel, a modern island paradise; exploring Tulum, known for its ruins; visiting Isla Mujeres, a beautiful small island; and enjoying Playa Del Carmen's white-sand beaches.
Conclusion
In conclusion, Cancun offers a multitude of all-inclusive resorts that cater to the diverse needs of travelers.nnWith its stunning beaches, luxury amenities, and a wide range of activities and dining options, Cancun truly provides a paradise getaway.nnWhether you're looking for a family-friendly experience, a romantic retreat, or a fun-filled holiday with friends, Cancun has it all.nnJust like the vibrant colors of the Caribbean Sea, Cancun's resorts offer an array of experiences that will leave you mesmerized and longing for more.