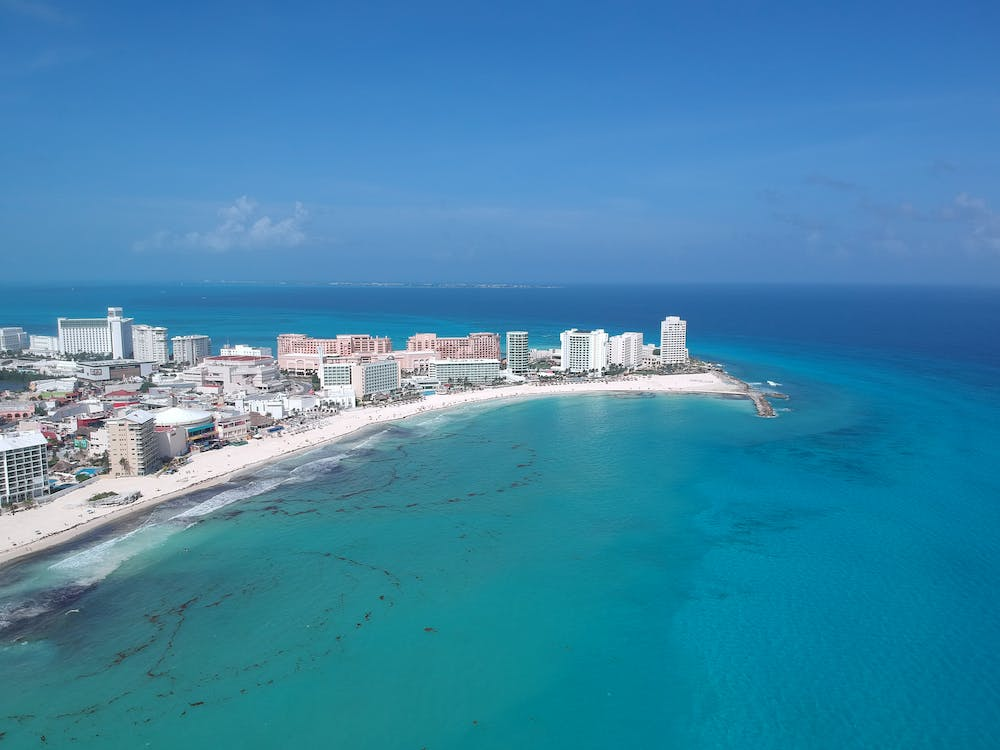 Coinciding with the allure of its pristine beaches and opulent all-inclusive resorts, the Cancun Hotel Zone offers a myriad of unforgettable experiences for travelers.
This renowned tourist destination, spanning over 22.5 kilometers, encapsulates the essence of indulgence and adventure.
From the captivating Museum of Underwater Art to the awe-inspiring ancient Mayan ruins, visitors are immersed in a rich tapestry of cultural and historical wonders.
The Hotel Zone also caters to thrill-seekers, with a plethora of water sports like parasailing and snorkeling on offer.
Transportation options, including a 24-hour bus system and taxis, ensure convenient exploration of the area, although Uber availability remains contentious.
Furthermore, the Hotel Zone presents a haven for shopping enthusiasts, boasting luxury stores and souvenir shops, with La Isla Shopping Mall being a prime destination for tax-free luxury shopping.
Immerse yourself in the vibrant tapestry of attractions, activities, and experiences that the Cancun Hotel Zone has to offer, creating memories that will last a lifetime.
Attractions in the Hotel Zone
The Cancun Hotel Zone is known for its attractions such as the epic white sandy beaches, the Museum of Underwater Art, interactive aquarium, and ancient Mayan ruins.
The beaches in the Hotel Zone are renowned for their pristine beauty and crystal-clear waters, offering visitors a perfect place to relax and soak up the sun.
The Museum of Underwater Art showcases a unique collection of submerged sculptures and serves as a platform for marine conservation and ecological awareness.
The interactive aquarium provides an opportunity for visitors to get up close and personal with various marine species through interactive exhibits and shows.
Additionally, the Hotel Zone is home to ancient Mayan ruins, such as the San Miguelito Ruins and El Rey, allowing visitors to explore the rich history and culture of the region.
Transportation Options
Transportation options in the Cancun Hotel Zone include a 24-hour bus system with R1 and R2 routes, taxis, and controversial availability of Uber.
The bus system provides convenient and affordable transportation for tourists, with buses running frequently throughout the day and night. The R1 and R2 routes cover the entire hotel zone, making it easy for visitors to explore different areas.
Taxis are also available but can be expensive, especially for longer distances. However, they offer a more convenient and direct mode of transportation.
Uber is another option, although its availability has been met with controversy in Cancun. While some visitors find it convenient and cost-effective, others argue that it negatively impacts local taxi drivers.
It is important for travelers to consider all transportation options and choose the one that best suits their needs and preferences.
Shopping and Souvenirs
Renowned for its diverse range of luxury stores and souvenir shops, the Cancun Hotel Zone offers a delightful retail experience that caters to the discerning tastes of visitors.
From high-end boutiques to local craft markets, there is something to suit every shopper's preference.
For those seeking tax-free luxury shopping, the La Isla Shopping Mall comes highly recommended. Here, visitors can indulge in a wide array of designer brands and upscale retailers.
Additionally, Mercado 28 in downtown Cancun provides a unique shopping experience, with its labyrinth of stalls offering a variety of traditional Mexican handicrafts and souvenirs.
Whether it's a luxury item or a trinket to remember the trip by, the Cancun Hotel Zone ensures that visitors have ample opportunities to find that perfect memento.
Activities and Experiences
Activities and experiences in the vibrant Cancun Hotel Zone range from turtle release programs and water sports to cultural excursions and thrilling adventures.
Tourists can participate in turtle release programs offered by some hotels, where they can witness the hatching and release of baby turtles into the ocean.
For those seeking adrenaline-pumping activities, water sports such as parasailing, jet skiing, and flyboarding are available.
Stand up paddleboarding and kayaking in Nichupte Lagoon provide a more serene experience.
Nature enthusiasts can embark on crocodile sightings or take a sailing trip to explore the region's natural beauty.
Cultural excursions include visiting the Cancun Underwater Museum for snorkeling or exploring ancient Mayan ruins such as Chichen Itza.
For a unique dining experience, tourists can enjoy a romantic dinner on the beach or indulge in the Cirque du Soleil JOY dinner theater show.
With its diverse range of activities, the Cancun Hotel Zone offers something for every traveler.
Frequently Asked Questions
What are some popular local restaurants in the Cancun Hotel Zone?
Popular local restaurants in the Cancun Hotel Zone include Careyes, Harry's Steakhouse, Restaurante Chianti, Umami, Taco y Tequila, The Surfin Burrito, and El Granero Grill Steak & Lobster House. These establishments offer a variety of Mexican, Japanese, and steakhouse cuisines.
Are there any restrictions or regulations for water sports activities in Cancun?
There are certain restrictions and regulations for water sports activities in Cancun. These may include age restrictions, safety guidelines, and the requirement of a certified instructor or guide for certain activities. It is important for tourists to adhere to these regulations to ensure their safety and the preservation of the environment.
How can I book a tour to swim with whale sharks in Cancun?
Interested in swimming with whale sharks in Cancun? To book a tour, you can contact local tour operators or visit their websites. They offer various packages, including transportation, equipment, and experienced guides for a safe and memorable experience.
Are there any specific safety precautions to keep in mind while exploring the underground rivers and caves in Rio Secreto?
When exploring the underground rivers and caves in Rio Secreto, it is important to follow safety precautions. These may include wearing appropriate footwear, using a guide, staying with the group, and avoiding touching or disturbing the natural formations.
Can you recommend any budget-friendly accommodation options in the Cancun Hotel Zone?
Budget-friendly accommodation options in the Cancun Hotel Zone include Mayan Monkey and Selina Cancun Laguna Hotel Zone. These options provide affordable prices while still offering comfortable accommodations for visitors to enjoy their stay in the area.
Conclusion
In conclusion, the Cancun Hotel Zone provides a plethora of attractions, transportation options, shopping opportunities, and activities for travelers to indulge in.
From exploring ancient Mayan ruins to enjoying water sports and relaxing on pristine beaches, there is something for everyone in this popular tourist destination.
Despite the controversy surrounding Uber availability, the 24-hour bus system and taxis offer convenient transportation.
One interesting statistic is that the Hotel Zone boasts over 70 hotels, ensuring visitors a safe and convenient stay.